China's oil and gas giant CNOOC has invited bids for offshore exploration blocks in the South China Sea.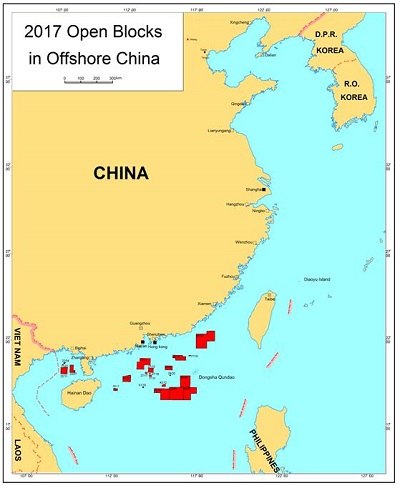 According to a statement by CNOOC, 22 open blocks covering an area of 47,270 square kilometers are available for cooperation between CNOOC and the foreign companies this year.
CNOOC is making data on the offered blocks available for companies that qualify until June 15. The tender will close on September 15.
CNOOC signs PSC with Husky
CNOOC signed production sharing contract with Husky Oil Operations (China) Limited for Block 16/25 in the South China Sea in April.
Block 16/25 is located in the Pearl River Mouth Basin and covers a total area of 44 square kilometers with a water depth of 100 meters.
According to the terms of the contract, Husky will act as operator during the exploration phase of the project and will bear the associated costs. CNOOC will then have the right to a participating interest in the development of up to 51 percent.
CNOOC's Exploration and Production
In 2016, CNOOC made 14 commercial discoveries and successfully appraised 25 oil and gas structures. As at the end of 2016, the company's net proved reserves were approximately 3.88 billion barrels of oil equivalent (BOE).
Four projects commenced production smoothly during the year, including Kenli 10-4 oilfield, Panyu 11-5 oilfield, Weizhou 6-9/6-10 comprehensive adjustment project and Enping 18-1 oilfield.
The company's net production target for 2017 is in the range of 450 to 460 million barrels of oil equivalent (BOE), of which approximately 64 percent and 36 percent are produced in China and overseas, respectively. The net production targets set for 2018 and 2019 are 455 million to 465 million BOE and 460 million to 470 million BOE, respectively.
CNOOC expects five new projects to come on stream during the year, including the Penglai 19-9 oilfield comprehensive adjustment project and the Enping 23-1 oilfields in China, which have already commenced production. The other three projects are the Weizhou 12-2 oilfield project in China, the BD gas field in Indonesia and the Hangingstone project in Canada. Currently, nearly 20 projects are under construction.
In 2017, the Company plans to drill 126 exploration wells and acquire approximately 13 thousand square kilometers of 3D seismic data.