Bahri's Dedication Recognized by IMO Award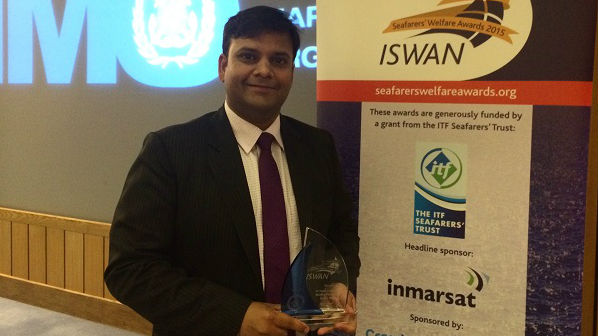 Chirag Bahri, Regional Director for South Asia of the Maritime Piracy Humanitarian Response Programme (MPHRP) has won the Dr Dierk Lindemann Welfare Personality of the Year Award at a ceremony held at the IMO, London on June 9, hosted by the International Seafarers' Welfare & Assistance Network (ISWAN).
The award is named after Dr Dierk Lindemann, Managing Director of the German Ship owners' Association and Ship owners' Group Spokesperson at the ILO. He was instrumental in the adoption of the MLC in 2006.
IMO Secretary General Koji Sekimizu presented the award to Bahri, in recognition of his work in assisting and supporting seafarers in India, Bangladesh and Sri Lanka who were survivors of maritime piracy.
He was among five individuals shortlisted for the award, sponsored by the International Chamber of Shipping.
Bahri was instrumental in providing support to the crew and their families of merchant vessel, MT Asphalt Venture following their release last year, after more than four years in captivity.
He also personally oversaw the rehabilitation of crews of the Albedo, Iceberg 1 and Royal Grace in South Asia. In these cases, Bahri provided assistance to the seafarer's families during the time they were held captive.
Being a survivor of maritime piracy himself, Bhari understood families' thirst for guidance and reassurance. He was available round-the-clock and never dismissed a call for humanitarian support to a seafarers or their families. Through the Maritime Piracy humanitarian Response Programme (MPHRP), Bahri organized family support sessions and piracy awareness training programs for seafarers. He has also established good links with regional governments in South Asia and with the maritime industry who came forward to assist these seafarers with jobs on board ship post return from captivity.
"The award is a recognition that the international maritime community cares for them," said Bahri. He dedicates the award to all seafarers and their families who have suffered from pirate attacks on the high seas.
Since 2008 over 4,000 seafarers have been held hostage by pirates around the world. MPHRP is a pan-industry alliance of ship owners, unions, managers, manning agents, insurers and welfare associations (maritime, labor, faith and secular) which provides assistance to seafarers who have been held hostage and their families.
The MPHRP is a not-for-profit pan-industry alliance of shipowners, managers, manning agents, insurers, maritime unions, professional and welfare associations working together with governmental organizations. Established in 2010, it has basically one aim, namely "to assist seafarers and their families with the humanitarian aspects of a traumatic incident caused by a piracy attack, armed robbery or being taken hostage". It has a European base, with regional representatives in South Asia, South East Asia and the Ukraine (CISB).
By concentrating on the three stages of a piracy incident, - before, during and after - , the Programme addresses the safety of seafarers by (i) developing Good Practice Guides and Pre-departure Piracy Awareness Training Programmes, and conducting workshops and courses for seafarers, shipping companies and welfare responders, (ii) operating a 24 hour, toll-free, international helpline and encouraging information sharing and plan implementation, and (iii) providing direct care and support to seafarers and their families affected by piracy, including assistance with repatriation, homecoming and recovery, and the establishment of professional and welfare secondary support networks.