Australia gets First LNG-Powered Offshore Support Vessel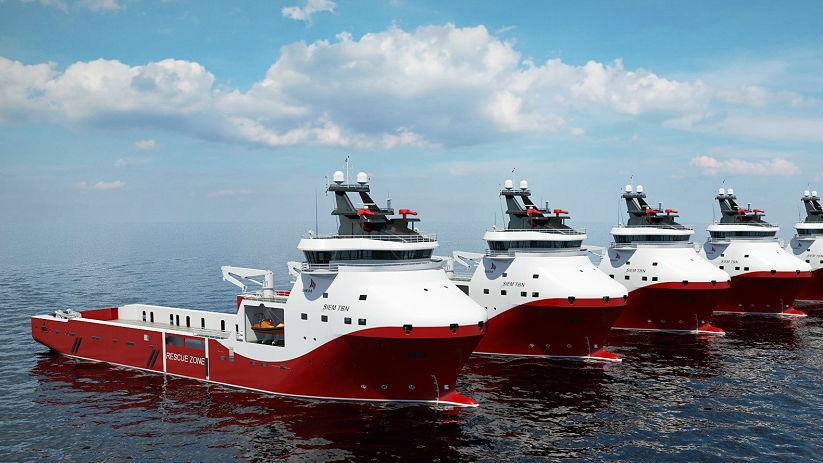 Woodside has signed a five-year charter contract with Norwegian company Siem Offshore Australia that will see Australia receive its first LNG-powered marine support vessel in 2017.
The new VS4411 design, dual-fuel PSV will support Woodside's assets in the Exmouth and Pilbara regions, working offshore from Dampier, Western Australia.
Woodside Chief Operations Officer Mike Utsler said the announcement positioned the company as an early adopter of LNG as a marine fuel in the region. "We're thrilled to be the first company to bring one of these vessels to the southern hemisphere. Australia is on track to become the world's largest producer of LNG, so it makes perfect sense to build dual-fuel capabilities for our marine fleets here.
"Our LNG tankers use their cargo to power their engines, making them cleaner vessels that use less diesel. It's natural that we progress this capability through to our support vessels," he said.
Siem Offshore hasn't nominated which of its newbuild PSVs is being contracted by Woodside. Following similar orders placed in November 2012 and August 2013, Siem Offshore contracted Wärtsilä to supply the design and integrated solutions for four new PSVs in 2014. The ships are being built at the Remontowa Shipbuilding yard in Poland and some are scheduled for delivery this year.
The new vessels will have Wärtsilä dual-fuel propulsion and an optimized hull design to reduce fuel consumption. Wärtsilä is also supplying the complete diesel electric system, the Wärtsilä LNGPac gas storage and handling system and the complete electrical and automation system, including a four-split Wärtsilä LLC (Low Loss Concept) solution.
Woodside in Australia
Last month, Woodside has issued a statement saying that the Browse Joint Venture participants have decided not to progress with the Australian Browse LNG development at this time considering the current economic and market environment.
In February 2016, U.S. oil major Chevron announced that the first exports from Australia's Wheatstone offshore gas project will be delayed from later this year to the middle of 2017.
The $29 billion Wheatstone Project is one of Australia's largest resource projects and Woodside is one of the project's joint venture partners. After the Chevron announcement, Woodside said that the Julimar project, which will supply gas to the Wheatstone onshore plant, remains on schedule and on budget. Woodside has a 65 percent equity interest in the Julimar project and is operator of the development.
Since 1984, Woodside have been operator for the landmark Australian project, the North West Shelf. In 2012, the company added the Pluto LNG Plant to its onshore operating facilities. It also operates five FPSOs in Australia.
Australian LNG
Australia took a significant step towards becoming the world's largest exporter of LNG with first production from the massive Gorgon Project off Western Australia early in March 2016. Gorgon is the largest single resource project ever developed in Australia and one of the world's largest natural gas projects.
Four new LNG projects have entered production since 2014 (Queensland Curtis LNG, Gladstone LNG, Australia Pacific LNG and Gorgon) and another three are under construction (Prelude Floating LNG, Wheatstone and Ichthys).