As Irma Passes, Florida's Recovery Begins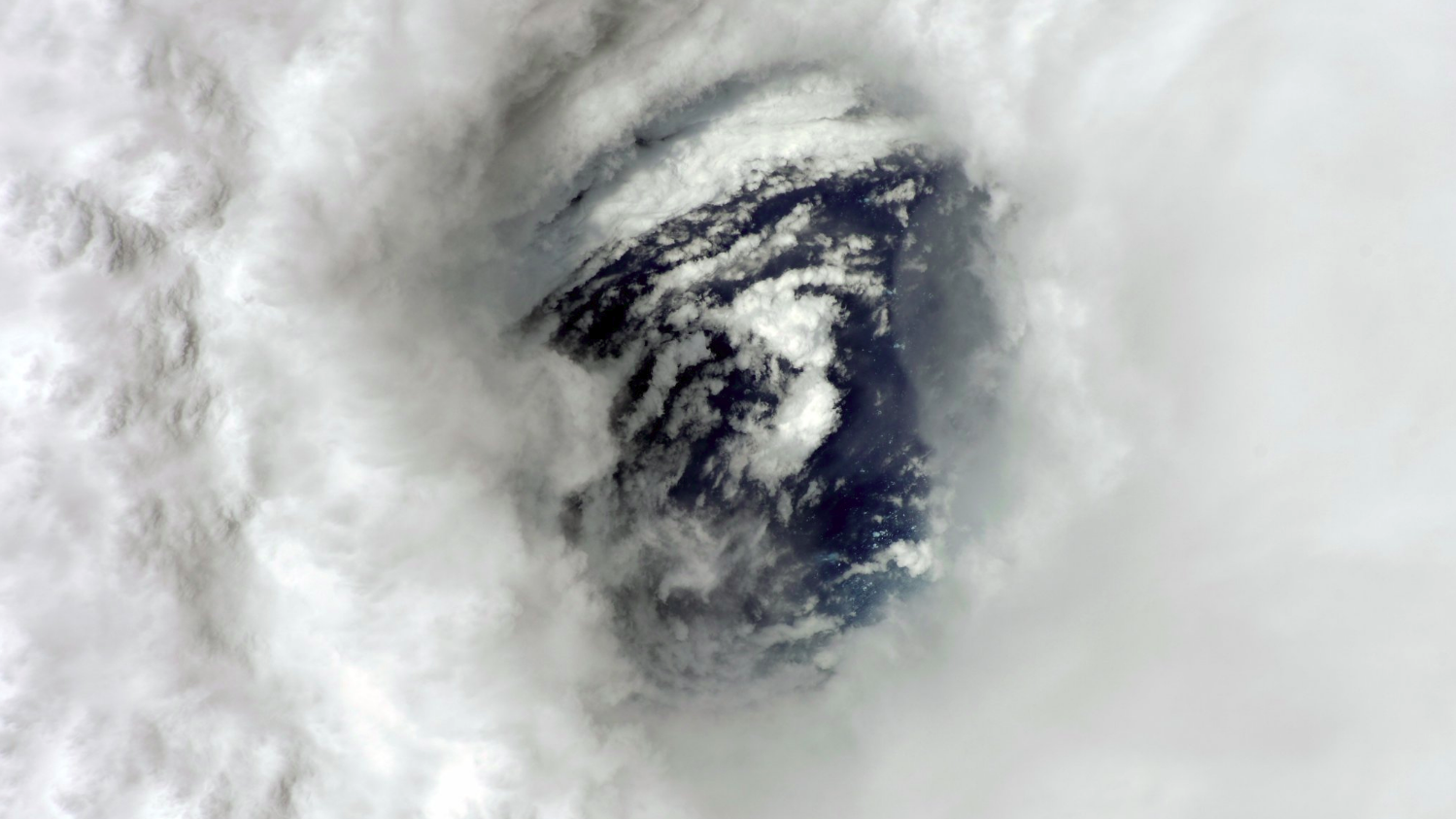 On Monday, Hurricane Irma lost strength as it headed north into Georgia. Southern Florida was less affected by the storm than forecasts predicted, but millions of residents lost power, access to transportation and emergency services as heavy weather swept across the state. Jacksonville was hit by a severe storm surge and flooding, as were the Florida Keys and much of Southwest Florida, but Miami, Fort Lauderdale and Tampa were largely spared. The road to the Florida Keys remains closed as highway officials work to clear debris and inspect the dozens of bridges along the route.
In the Caribbean, the damage was more extensive. Irma flattened Barbuda and grazed Puerto Rico, and it spent 72 hours over Cuba's northern provinces, killing 10 people and damaging buildings across a wide swath of land. In St. Martin, residents reported looting and armed robbery, and the French government came in for criticism for deploying an allegedly insufficient number of troops to maintain order. President Emmanuel Macron promised to double the number to 2,200 in order to restore the rule of law.
Rescue and recovery
The U.S. Navy says that it is sending the USS Abraham Lincoln to assist with the rescue effort in the Keys, and USS Iwo Jima and USS New York are on their way to join the effort in Florida.
In the U.S. Virgin Islands, residents of hard-hit St. Thomas have been evacuating to Puerto Rico, where they will have access to food and water. Military C-130 aircraft have airlifted over 1,200 civilians, but many of the residents have been escaping aboard private boats owned by their neighbors in Puerto Rico, many of whom are very familiar with the crossing.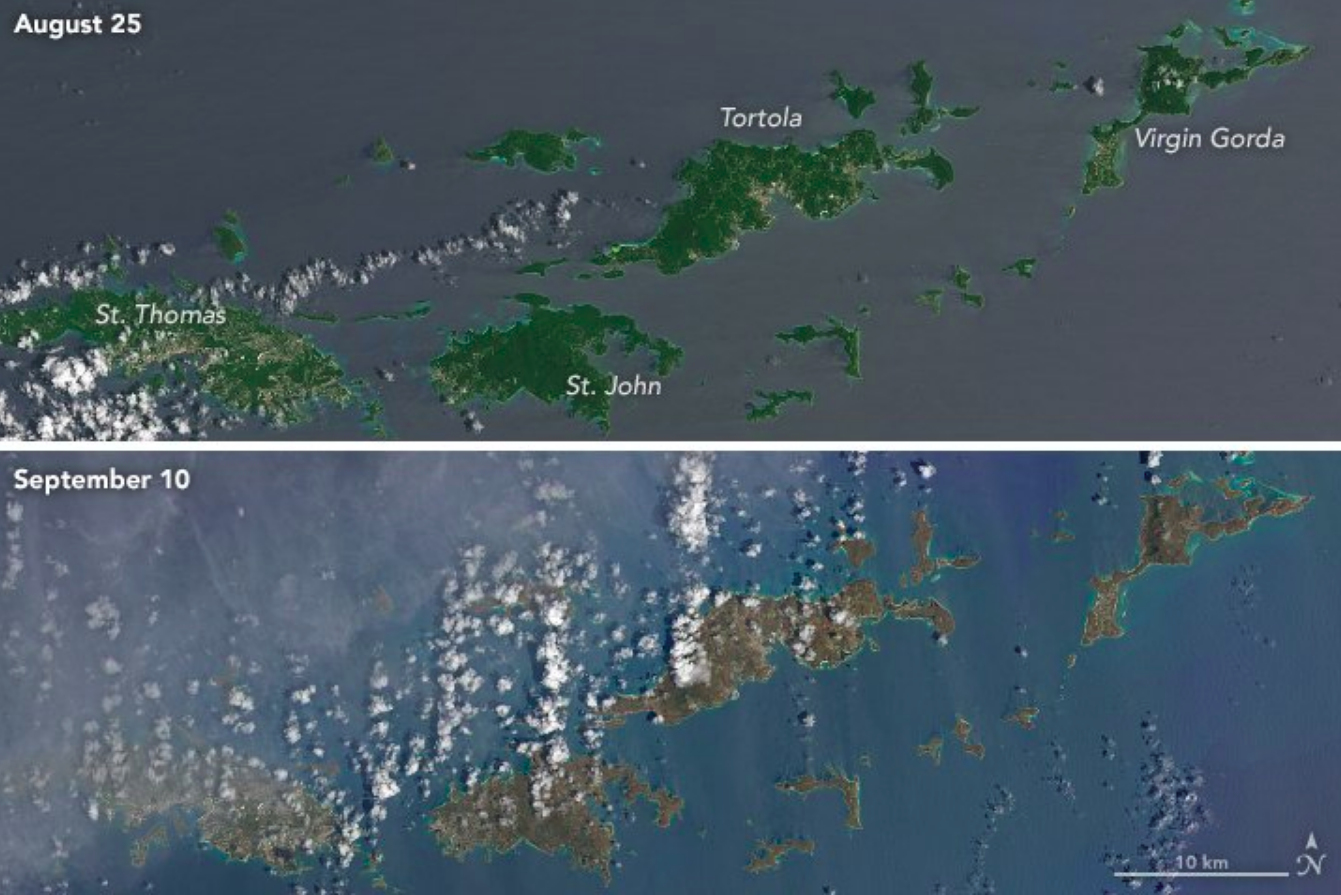 The U.S. Virgin Islands, before and after the storm (NASA)
The amphib USS Wasp is already in the USVI, along with several Coast Guard cutters, and USS Kearsarge and USS Oak Hill are headed to join her.
In a statement Monday, Vice Adm. Karl Schultz said that the Coast Guard's rescue helicopters are already returning to South Florida from safe storage locations outside the storm's path. Schultz said that so far the number of requests for search and rescue have been low, but the Coast Guard is reconstituting its resources in the state to be prepared.
On Monday, President Donald Trump told reporters at the White House that the Coast Guard had done a great job with hurricane response, and he noted that the back-to-back storms have elevated the service branch's image. "And I'll tell you what, we have great people, and a group that really deserves tremendous credit is the United States Coast Guard," he said. "If you talk about branding, no brand has improved more than the United States Coast Guard." His comments came as a surprise to many defense analysts: in March, the White House proposed to cut the Coast Guard's budget by 14 percent, then walked back the cuts after criticism from Congress.
Ports & vessel operators
Jaxport, PortMiami, Port Tampa Bay, Port Everglades and Port Canaveral remained closed Monday pending an all-clear from the U.S. Coast Guard. USCG Sector Southeast said in a Twitter statement that it expects to issue status updates as inspections progress.
PortMiami said in a statement on its site that it expects to reopen on Tuesday, but its POMTOC and SFCT terminals may not be open until Wednesday, depending on final assessments.
Port Everglades is one of Florida's top petroleum product ports, handling fuel for 12 counties and multiple international airports. The port said in a statement that its fuel terminals can now release the "storm reserve" supply that they held back during Irma, which should be enough for four days of gas, five days of diesel and five days of jet fuel. Florida Governor Rick Scott said that he is putting a priority on reopening Tampa and Everglades so that product tankers can get back in and boost the state's diminished fuel supplies. The Trump administration has waived the Jones Act for shipments of fuel to Florida, and Gov. Scott said that there are already multiple product tankers anchored and waiting for the ports to reopen.
Cruise lines have canceled or altered virtually all departures out of Florida in response to the port closures. The world's busiest cruise ports are all in South Florida, and Royal Caribbean, Carnival, Norwegian and multiple other operators have had to make changes to work around the disruption. One line is putting its ships to an alternative use: Royal Caribbean's Adventure of the Seas and Majesty of the Seas are participating in the relief effort by making humanitarian calls in St. Maarten. The line has canceled two scheduled cruises, and instead the vessels are dropping off supplies and picked up stranded travelers for evacuation. For both canceled sailings, booked passengers will receive a full refund and a 25 percent future credit.
Climate factors
The unprecedented arrival of two Category Four hurricanes in one season has some Americans wondering whether anthropogenic climate change may have a link to extreme weather events. Experts emphasize that individual hurricanes cannot be directly attributed to climate change, but most agree with the theory that warming oceans increase the odds of powerful tropical storms, which gain strength over warm water.
"The reach of extreme weather is spreading and its punch is getting stronger due to climate change," asserted Jeffrey S. Kargel of the University of Arizona's Department of Hydrology & Atmospheric Sciences, speaking to The Independent. "Human alteration of the atmosphere is having a major role in causing more costly and more frequent extreme weather events."
Climate change is politically contentious in the U.S., and Miami's mayor, Republican Tomas Regalado, said that "this is the time that the president and the EPA and whoever makes decisions needs to talk about [it]." Governor Rick Scott has not made a statement on the subject.
Scott Pruitt, the head of the EPA and a critic of the scientific consensus on CO2's climate effects, said that any discussion of cause and effect so soon after the storm would be "misplaced." "To use time and effort to address it at this point is very, very insensitive to this [sic] people in Florida," he told CNN.