Abu Sayyaf Responsible for Latest Tug Crew Kidnapping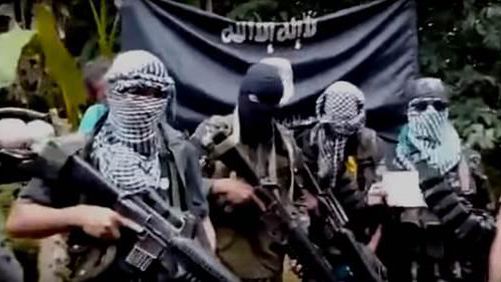 On July 20, top Malaysian police commander Tan Sri Khalid Abu Bakar confirmed that the five missing crewmembers of a tug found abandoned off of Sabah had been kidnapped by a group linked to Abu Sayyaf. The statement confirmed an earlier announcement by Philippine government spokesman Jesus Dureza.
Bakar would not provide details, but sources in the Philippines told the Malaysian Star that the men responsible were the well-known kidnappers the Muktadir brothers, working together with Abu Sayyaf sub-commander Al Habsi Misaya.
The wife of one of the crewmembers, Tayudin Anjut, told reporters that the kidnappers had made a demand for a $4 million ransom. The other four abductees are Mohd Ridzuan Ismail, 32; Abdul Rahim Summas, 62; Mohamad Jumadil Rahim, 23; and Fandy Bakran, 26.
Malaysian deputy home minister Datuk Nur Jazlan Mohamed told media that the government was in negotiations with the militant group to secure the men's release.
Abu Sayyaf has kidnapped the crews of multiple tugboats this year; many slow-moving tugs hauling coal barges pass through the strait between the Abu Sayyaf stronghold of Tawi-Tawi and the Malaysian state of Sabah, the southern entrance to the Sulu Sea. In April, Indonesian officials suggested that the shipments would be suspended, but the nation's coal mining industry is heavily opposed to an export ban and insiders suggest that the prohibition has not had an effect.
"There have been leakages. Philippines are still getting their coal from many parts of Indonesia, for example from Kalimantan and other places. This is done outside the knowledge of the authorities," said Budhi Halim, Secretary-General of the Indonesian National Shipowners Association, speaking to Channel NewsAsia.
Separately, on Thursday, newly elected Philippine president Rodrigo Duterte told army units fighting Abu Sayyaf in Mindanao that he supported them in their campaign, and would "take the cudgels" for them if they "face cases due to such lawful performance" of their duties.
"I am with you in the punitive and law enforcement action against the terrorist Abu Sayyaf Group," he said, according to Brigadier General Restituto Padilla.
Duterte also made conciliatory remarks: "I don't see anything good coming out of this war. For the sake of our children, we have to stop this war," he said, in an audio recording obtained by the Inquirer.
Duterte has persistently shrugged off concerns about human rights in the pursuit of law and order; he campaigned on a pledge to kill 100,000 criminals, and he has exhorted police forces and citizens to use deadly force against suspected drug dealers. "Please feel free to call us, the police, or do it yourself if you have the gun, you have my support," he said in a televised address following the election.