Abandoned Migrants Pleads for Help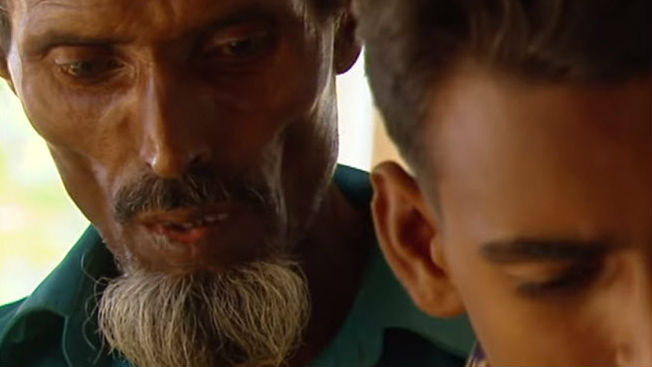 An exhausted refugee on a stranded boat told a Thai news agency that life is slowly ebbing from the men, women and children on the boat he is on, one of seven boats unwanted by the nations of South East Asia.
Through a translator, he said: "There are 400 of us on board. Some are already dead, but I cannot tell you how many because I do not have the strength to move around the ship.
"We have been at sea for a month. This is a Thai trawler, modified to carry people. We are not sure where we are. We have used up most food and water.
"We beg for your help."
The conversation was first reported by the Phuket Wan Tourism News and then taken up by Human Rights At Sea (HRAS).
Phuket Wan rigged a connection between mobile telephones that was enabling the 15-year-old passenger, in a faint voice, to relay what information he knew about the fleet of seven vessels to an activist who speaks Rohingya.
"The boat has about 400 people on board," he said. "Thai and Myanmar brokers [the regional term for traffickers] were on the boat when we left Myanmar one month ago.
"We have been out of food and water for 10 days. When I last heard a figure, there had been 22 deaths on board. It's very crowded."
The boy says that the boat's engine had been sabotaged and the brokers had left the boat. He says they are within sight of land, but no boats in the vicinity appear to be willing to help.
He was speaking through one of three mobile phones on board. The Thai broker bought simcards to make sure we could contact relatives to demand ransom, said the boy.
HRAS Helps Verify Calls
On Tuesday, the assembled HRAS team were provided with the mobile numbers for two boats from which they were able to corroborate that the numbers were genuine and through third-party support were able to identify the location of at least one of the vessels in the vicinity of Lipe Island or Ko Lipe at the northern end of the Malacca Straits.
Ko Lipe is a small island in the Adang-Rawi Archipelago of the Andaman Sea, in Satun Province of southwest Thailand, close to the Malaysian border.
All information was passed to Thai authorities by regional co-ordinating sources.
Founder of HRAS, David Hammond, said: "Human Rights at Sea will continue to support all those organizations who have requested our contribution for as long as necessary. I am grateful to our extensive network of contacts for reacting so quickly with many long hours being put in to try to locate such vessels."
"My thanks also to those members of the shipping community who indicated that crews would remain vigilant enroute through the area. This is a perfect example of shipping bodies reacting quickly to a call from maritime human rights organizations such as ourselves".
Thailand Found a Boat
Meanwhile, Thailand reports that it has found a boat drifting off its west coast carrying 300 migrants but has refused to grant it permission to land, a senior police officer said on Thursday.
"We declined them entry to the country but we gave them food and water to adhere to our human rights obligations," said regional police official Major General Puthichart Ekachant.
The boat was found 17 km (10 miles) off the coast of the southern island of Koh Lipe, he said.
Migrants on the boat did not want to land in Thailand but instead wanted to go to Malaysia or Indonesia, said Somchai Na Bangchang, a rear admiral in the Royal Thai Navy.
"We did not push back the boat or kick them out," Somchai said.
Several thousand migrants have been abandoned at sea by smugglers following a Thai crackdown on human trafficking. The U.N. refugee agency UNHCR has warned the situation could develop into a "massive humanitarian crisis."
Malaysia will Push Boats Back
Malaysia said on Thursday it would push boats full of migrants back to sea, a policy that has drawn criticism from the U.N. refugee agency as thousands remained adrift in Southeast Asian waters.
The crackdown has made traffickers wary of landing in Thailand, the preferred destination for the region's people smuggling networks, and led to a surge in migrants to Indonesia and Malaysia.
"We are sending them the right signal, to send them to where they came from," Malaysian Deputy Home Minister Wan Junaidi Tuanku Jaafar said.
"Their country is not at war. If there is nothing wrong with the ship, they should sail back to their own country."
Many of the arrivals are Rohingya, a stateless Muslim minority from Bangladesh and Myanmar described by the United Nations as one of the most persecuted minorities in the world.
An estimated 25,000 Bangladeshis and Rohingya boarded rickety smugglers' boats in the first three months of this year, twice as many in the same period of 2014, the UNHCR has said.
The agency has called for a coordinated search and rescue operation.
"The first priority is to save lives," said Volker Turk, the UNHCR's Assistant High Commissioner for Protection, in a statement on Wednesday. "It is key for states to share the responsibility to disembark these people immediately."
Malaysia said the UNHCR should find another country for the migrants.
"I don't see why we are under pressure," Wan said. "We are doing what we think we should do. We have to consider what our people want to see us doing. They don't want to see immigrants come into our country."
Malaysian officials could not confirm media reports of at least two more boats with hundreds on board being pushed back to sea. "We don't have any information," Abdul Aziz Yusoff, commander of the marine operations force, said.
Thailand ordered a clean-up of suspected traffickers' camps last week after 33 bodies, believed to be of migrants, were found in shallow graves near the Malaysian border.
The navies of both Thailand and Indonesia said their policy was to offer food and water to migrants on Wednesday and not to send boats back out to sea.
But Thai government officials have said the country is not receiving boat people - that is why they are arriving in Malaysia and Indonesia.
More than 1,600 migrants arrived Indonesia and Malaysia at the weekend. Malaysia detained many. Indonesia provided food, water and medical supplies to around 500 on a boat off the coast of the northwestern province of Aceh on Monday, before sending the vessel towards Malaysia.
"There is some confusion on policy," Vivian Tan, the spokeswoman for UNHCR in Thailand, said on Thursday. "The numbers are quite overwhelming."
The United States last year downgraded Thailand and Malaysia to its list of the world's worst centers of human trafficking, dumping them in the same category as North Korea and Syria.
U.N. Alarmed
United Nations Secretary-General Ban Ki-moon said on Thursday that he is alarmed by reports that some countries in Southeast Asia may be refusing entry to boats adrift at sea with several thousand refugees and migrants.
Thailand declined permission for a migrant boat to land on Thursday while Malaysia said it would push boats back out to sea.
"The secretary-general urges governments to ensure that the obligation of rescue at sea is upheld and the prohibition on refoulement is maintained," U.N. spokesman Stephane Dujarric told reporters.
"He also urges governments to facilitate timely disembarkation and keep their borders and ports open in order to help the vulnerable people who are in need," he said.
Smugglers have abandoned ships full of migrants, many of them hungry and sick, following a crackdown on human trafficking in Thailand, the most common first destination for Rohingya Muslims fleeing persecution in Bangladesh and Myanmar.
An estimated 25,000 Bangladeshis and Rohingya boarded rickety smugglers' boats in the first three months of this year, twice as many in the same period of 2014, the U.N. refugee agency UNHCR has said.
The UNHCR estimates that around 300 people died at sea in the first quarter of this year as a result of starvation, dehydration and abuse by boat crews.
Ban "emphasizes the need for a timely, comprehensive, rights-based, predictable and effective response" to the crisis, Dujarric said.