Turkey Ponders Role as Oil Hub
Over the past three years, Turkey has experienced some of the fastest growth in energy demand of countries in the Organization for Economic Cooperation and Development (OECD). Unlike a number of other OECD countries in Europe, Turkey's economy has avoided the prolonged stagnation that has characterized much of the continent for the past few years. The country's energy use is still relatively low, although it is increasing at a fast pace. According to the International Energy Agency (IEA), energy use will continue to grow at an annual growth rate of around 4.5 per cent from 2015 to 2030, approximately doubling over the next decade.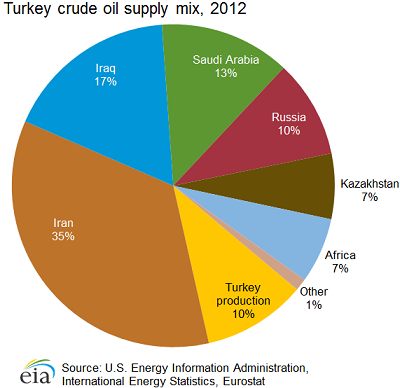 As of January 1, 2014, the Oil & Gas Journal (OGJ) estimated Turkey's proved oil reserves at 295 million barrels, located mostly in the southeast region. Turkey's oil production peaked in 1991 at 85,000 barrels per day (bbl/d), but then it declined each year and bottomed out in 2004 at 43,000 bbl/d. Although Turkey's production of liquid fuels has increased slightly since 2004, it is far short of what the country consumes each year.
Türkiye Petrolleri Anonim Ortakl??? (TPAO) is the main exploration and production entity in Turkey. As a state-owned firm, TPAO has preferential rights, and any foreign involvement in upstream activities is limited to joint ventures with TPAO. Overall, TPAO produced about 75 per cent of the total oil output in Turkey in 2011, according to the IEA.
The government offers several types of tax breaks to encourage exploration and production, including lower corporate tax rates, exemptions from import duties for material and equipment, and exemptions from value-added tax for exploration activities.
Most of Turkey's 295 million barrels of proven oil reserves are located in the Batman and Adiyaman Provinces in the southeast (which is also where most of Turkey's oil production occurs), with additional deposits found in Thrace in the northwest. The U.S. Geological Survey estimated about 438 million barrels of oil in as yet undiscovered resources in the southern onshore part of the country. While technically recoverable, it is unclear whether these resources will be economically viable to develop.
Offshore reserves may become a future source of Turkey's oil supply. There may be significant reserves under the Aegean Sea, although this has not been confirmed because of ongoing territorial disputes with Greece. The Black Sea may also hold significant oil production potential for Turkey. The Turkish national oil company, TPAO, has increased its exploration activities in the Turkish portion of the Black Sea, which could hold between 7 and 10 billion barrels of oil. The offshore area is being explored by TPAO, which has formed joint ventures with ExxonMobil and Petrobras. TPAO's short-term goal is to develop the resources situated in the Black Sea. Turkey's Ministry of Energy and Natural Resources plans to begin commercial production in the Black Sea by 2016.
In addition to the Black Sea, TPAO plans to develop hydrocarbon resources in the Mediterranean. In November 2011, TPAO signed an agreement with Royal Dutch Shell for hydrocarbon exploration in the Mediterranean and the southeast area of the country. This agreement covered plans for shale gas exploration in the southeast near the city of Diyarbakir. According to Turkey's Ministry of Energy and Natural Resources, Shell began exploration at the Saribugday 1 field in August 2012.
In addition to being a major market for energy supplies, Turkey's role as an energy transit hub is increasingly important. Turkey is a key part of oil and natural gas supplies movement from Russia, the Caspian region, and the Middle East to Europe. The country has been a major transit point for seaborne-traded oil and is becoming more important for pipeline-traded oil and natural gas. Growing volumes of Russian and Caspian oil are being sent by tanker via the Turkish Straits to Western markets, while a terminal on Turkey's Mediterranean coast at Ceyhan serves as an outlet for oil exports from northern Iraq and for both oil and natural gas exports from Azerbaijan. Approximately 3.0 million bbl/d flowed through the Bosporus and the Dardanelles in 2013 (approximately 2.5 million bbl/d of crude oil and 0.5 million bbl/d of petroleum products).
A terminal on Turkey's Mediterranean coast at Ceyhan facilitates oil exports from northern Iraq via a pipeline from Kirkuk and from Azerbaijan via the Baku-Tbilisi-Ceyhan pipeline. The Kirkuk-Ceyhan pipeline is Turkey's largest oil pipeline (by capacity) and serves as a transport pipeline of Iraqi oil. It is approximately 600 miles long and consists of two lines with a capacity of 1.65 million bbl/d. However, only one of the twin pipelines is operational, with a maximum operational capacity of 400,000 bbl/d, according to the Office of the Special Inspector General for Iraq Reconstruction (SIGIR). In late 2012, Iraq and Turkey agreed to continue crude oil imports through this pipeline for another 15 years, although frequent attacks on the pipeline regularly result in operation disruptions. Actual flows averaged just over 300,000 bbl/d in 2012.
The Baku-Tbilisi-Ceyhan Pipeline (BTC) is Turkey's longest pipeline (approximately 1,100 miles). Its original capacity was 1 million bbl/d, which was increased to 1.2 million bbl/d in 2009 with the use of drag-reducing agents. The pipeline transports Azeri light crude (mainly from the Azeri-Chirag-Guneshli field) via Georgia to Turkey's Mediterranean port of Ceyhan for further export. Since 2008, Kazakh crude oil has also been shipped via the BTC. The crude is then shipped via tankers to European markets. The pipeline initially came into service in June 2006.
To ease increasing oil traffic through the Turkish Straits and in an effort to anticipate needed increases in pipeline capacity for increasing volumes of Caspian oil, a number of Bosporus bypass options are under consideration in Bulgaria, Romania, Ukraine, and Turkey itself. The BTC Pipeline, which bypasses the Turkish Straits chokepoint, is the first of many planned or proposed bypass pipelines to be constructed.
Bosporus bypass options outside of Turkey include the Odessa-Brody pipeline in Ukraine, which currently transports crude oil into Odessa (reverse mode). Others have not yet been constructed, but proposals include the Pan-European Oil Pipeline, the Bourgas, Bulgaria to Vlore, Albania, and the Bourgas to Alexandropoulos, Greece pipeline.
There were a number of bypass options proposed in Turkey over the past decade, including:
Samsun-Ceyhan Pipeline would transport oil from Turkey's Black Sea port of Samsun to Ceyhan on the Mediterranean coast. The project includes the construction of a 350-mile oil pipeline, a new terminal for receiving oil at Samsun, a terminal for exporting the oil, and a storage plant at Ceyhan. The oil pipeline would have a maximum initial transportation capacity of 1 million bbl/d, which can eventually be increased to 1.5 million bbl/d.
Kiyikoy-Ibrikbaba Pipeline is a 1.2 million bbl/d pipeline that would run between Kiyikoy on the Black Sea and Ibrikbaba on the Aegean Sea near Greece. This pipeline was proposed more than six years ago, but very little progress has occurred.
Canal Istanbul is a proposed 30-mile link between the Black Sea and the Sea of Marmara. The waterway would be located on the European side of the Bosporus and completed by 2023. However, given the size of the undertaking and the associated cost, this project is the least desirable and least feasible option, and likely will not be completed.
Kurdish Regional Government (KRG) Pipeline would connect oil fields in the northeast, KRG-controlled portion of Iraq to Turkey via an independent pipeline from Taq Taq to Fishkhabur. The KRG has already constructed the pipeline with a capacity of 300,000 bbl/d, but Iraq's government has threatened litigation against Turkey for buying KRG oil without official approval.
The port of Ceyhan has become an important outlet for both Caspian oil exports as well as Iraqi oil shipments from Kirkuk. Turkey is seeking to build up Ceyhan as a regional energy hub, with private investors receiving approval to build several refineries at the oil terminal, adding revenue beyond transit fees.
The Ceyhan oil terminal has four crude oil loading berths. Two outer berths can accommodate tankers up to 300,000 deadweight tons, while the two inner berths can accommodate ships up to 150,000 deadweight tons. In 2012, Ceyhan handled more than 600,000 bbl/d of Azeri exports and about 300,000 bbl/d of Iraqi crude oil exports to Europe and the United States.
In addition to crude oil, Iraqi condensate exports have also started to load in Ceyhan. In September 2012, the Kurdish Regional Government trucked the first cargo of condensate from Iraq to Ceyhan, which was loaded onto a vessel on October 4. The size of the cargo was about 105,000 barrels, with additional cargoes already planned to be shipped via the same route.
The Kurdish Regional Government also stated in early 2014 that it would work with the Turkish government to open several new border crossings, increasing the potential volume of exports by truck.